News /Special Softsling Clevis hooks WLL 500 mT
A busy couple of weeks. GN made a few Special Softsling Clevis hooks WLL 500 mT with polyurethane Bumpers for Monopile protection for the renewable industry.
Together with our customer we designed a special Softsling Clevis hook with a safe working load of 500.000 kgs. (500 mTon) The hook is forged from High alloy steel quenched and tempered. Proof load test, NDT and FAT testing has been done in house witnessed by DNV-GL.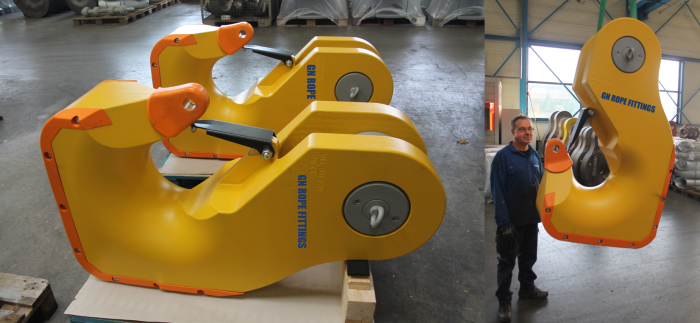 By having the jaw-gap hook configuration the rope can be mounted directly onto the hook. (top-side hook) Another savings are lifting height and weight by not using additional rigging.
Corners of the hook are equipped with polyurethane absorbers to protect the load during use. (orange parts) The polyurethane Bumpers are mounted with a robust built-in solution and are able to be removed when re-certification is required.
GN is a strong company in short delivery on standard items but also on custom made products. GN is still fully operational despite the coronavirus outbreak. Thanks to various additional hygiene and distance measures, activities are continuing in a safe manner. #manufacturing #cnc #testing #fabrication #production
Back to overview